A very massive hunting style gate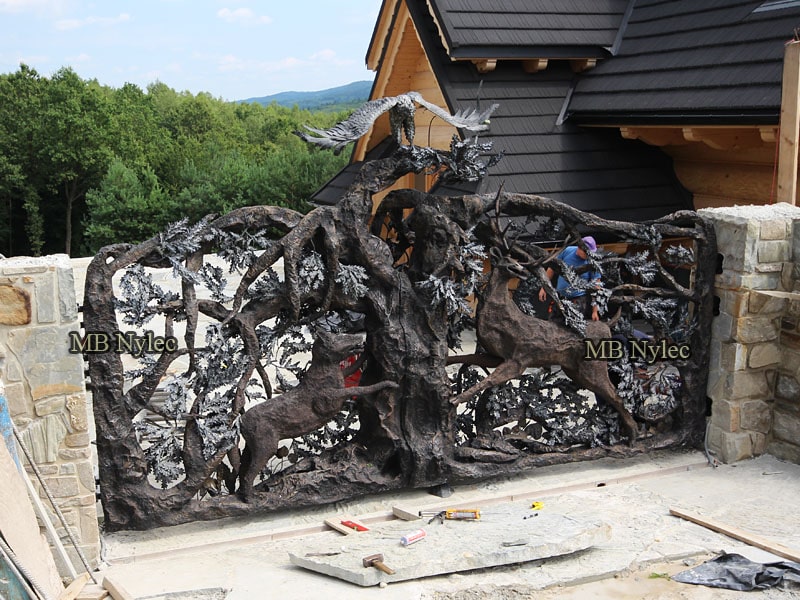 BM32 Hunting Gate
Hunting style forged openwork gate
A powerful hand-forged hunting gate depicting a scene of a wolf attacking a deer under an old oak and a take-off eagle.
The gate is constructed in such a way that despite its huge thickness (the gate is over a meter thick) it opens completely, without reducing the entry light after opening.
The wolf, deer and eagle are life-size. The gate is double-leaf, made entirely of steel, hot-dip galvanized. The gate is very massive, its weight is well over a ton. We mount full automation to the gate. Each of these gates is also a work of art.
Several parameters:
Gate weight of 1 ton
standard length 5 meters
width over 1 meter
standard height over 3 meters
We can also make this gate in bronze.
Each, even the smallest element of the gate has been designed and made in our company.
On request, we can issue a certificate to the gate confirming its quality and performance by mb-nylec.
We make these gates from the best possible materials. The quality of workmanship is in a class of its own.
The gate shown in the pictures is double-leaf, it is also possible to make a sliding gate.
The gate is made with the highest quality craftsmanship, hot-dip galvanized and patinated with autumn colors or chosen by the customer.